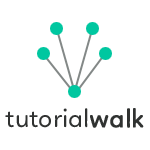 Privacy Policy
This page explains how we treat personal information and last modified on 3 Oct 2016.
If there is any significant change to this policy, it will be notified by posting a notice on the header. We are committed to respect your privacy. Please contact us for any questions and comments you have.
Summary:
We value your trust on us. Any information you provide to us, will be safeguarded with at most care.
We will not sell or rent or share or give your personal information to anyone. Never!
You can close your association with us any time. If you choose to do so, all your information will be destroyed immediately.
Information collected through user input:
On registration, we get Name, email, password, about (optional), website (optional), country (optional) - These help Tutorial Walk to know who you are. Passwords are stored in our database in encrypted form. Nobody can tell what they are! Even we cannot.
Information collected through automatic means:
To showcase your progress on courses, we store information on the lessons and courses you read. This is to improve your learning experience. Using your reading information, we showcase your progress and suggestions. As in all the cases, no information about an individual is absolutely not shared with anyone else within or external to the system.
Website traffic:
We use Google Analytics to analyze information about website traffic. Google Analytics is a platform provided by Google to know better insights about our traffic. We use this to serve you better and improve the quality. Please refer Google Analytics to know about it in detail. Using it, we may share aggregated traffic information to showcase our popularity. Such as, "in the last month we had one million users".
Cookies:
On registration and login, through your browser we set a temporary session cookie. It is used to maintain a conversation state. If you do not intend you may deny this cookie at the cost of one or two ornamental features. You always have a choice to disable it from your browser settings.
Logs:
We do maintain logs for technical trouble shooting and to keep track of the website's health status. It is a text file stored in our server and will never be shared with anyone outside our technical team.
The above information is complete, other than the above no privacy information is involved in our activities.